Thinking AR/VR helps only for surgeries?
Then you are partially right. The scope of VR is much beyond that. It helps to treat mental disorders like PTSD to a significant extent which is quite challenging for the medical world.
The future is here. Immersive Technology – An excellent 'test drive' for all healthcare procedures. Here is the Immersive Technology that's going to rule the Healthcare for eras together. The emerging technology supports the healthcare industry in an inevitable way. This can be a surgery walk through with the aid of Virtual Reality or guide the surgeon in real-time with the aid of Augmented Reality tools.
Using Augmented Reality in the operating theatre could assist surgeons to boost the result of reconstructive medical procedure for patients.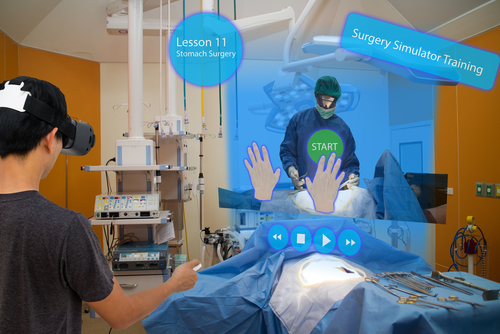 Augmented reality application allows surgeons to incorporate data visualization into diagnostic and treatment procedures to improve safety, efficiency and cost and to enhance surgical training.
Augmented Reality Learning Application
Use of Augmented Reality app in a classroom to experience the real world, for example, Augmented Reality in Dental Education Use of Augment reality video to demonstrate Dental models to students to enable them to compare their sculpting with reference models.
With AR & VR Technology, Medical students can practice surgery. This technology will allow students to practice the surgery on a Virtual environment rather than the patients.
Smart Medical with Augmented and Virtual Reality Technology concept, medical student use AR and VR to practice the surgery simulation to assist the doctor in VR in the operation room to feel like a real.
As a preeminent AR app development company, Immersive gaze offers unique applications. We help to add a value to your business growth. We have worked with the industry of Healthcare, Manufacturing, Education, Automotive, Retail, Gaming, Real Estate and etc. Keep in touch with us to get the progressive technology solutions from us.